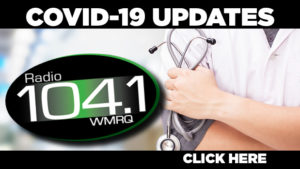 With Governor Lamont planning for the Coronavirus pandemic to last into at least June, the governor is taking action to secure 60,000 laptops for high school students in the state.

The partnership for Connecticut is ordering $24 million worth of computers for Connecticut's neediest districts. Since the governor says the pandemic will likely stretch into June, it's unclear if those computers will make a difference this school year.

It's a partnership between private philanthropists and the state known as the Partnership for Connecticut. On Tuesday morning, its board unanimously approved a nearly $24 million purchase of 60,000 Dell laptops.  The laptops will go to Connecticut students in the 33 lowest-performing districts known as Alliance Districts.

As of Monday (4/6) afternoon, the total number of coronavirus cases in the state stood at 6,906, Gov. Ned Lamont said. The number of deaths linked to coronavirus reached 206.

April 7

8:30 a.m.

Health officials confirmed the first COVID-19 related death in Waterford. The Ledge Light Health District said the resident was an elderly female. "It is with regret I inform you all that we have lost our first Waterford resident to the virus,"  said Robert Brule, Waterford first selectman. "I would like to extend my deepest prayers and condolences to the family. Please everyone, stay home & stay safe!"

On Wednesday, The North Haven Police Department announced nine residents tested positive for coronavirus, bringing the total in the state to 3,137. Since Monday, 557 new cases have been confirmed in Connecticut and, in the last 24 hours, 16 people have died. 17 deaths were reported Tuesday that had not yet been reported over the course of the last two weeks.

The City of Meriden confirmed the first death of a Meriden resident from COVID-19 Monday evening. The city reported the deceased was in their 40s. It is unknown how the individual contracted the illness. This comes just over a week after the city reported its first case.

President Donald Trump is extending the voluntary national shutdown for a month as sickness and death from the coronavirus pandemic rise in the U.S. The initial 15 days of social distancing urged by the federal government is expiring and Trump had expressed interest in relaxing the guidelines at least in parts of the country less afflicted by the pandemic. But instead he decided to extend them. Many states and local governments have stiffer controls in place on mobility and gatherings. The federal guidelines recommend against against large group gatherings, promote social distancing, and urge older people and anyone with existing health problems to stay home.

On Saturday, March 28, Governor Lamont confirmed 33 people have died in the state as a result of the coronavirus, and 233 more Connecticut residents have tested positive, bringing the total to 1,524. 205 people in Connecticut have been hospitalized.

The Centers for Disease Control and Prevention issued a Domestic Travel Advisory for Connecticut, New York and New Jersey effective immediately. The advisory urges state residents to refrain from non-essential domestic travel for 14 days starting Saturday night.

This advisory does not apply to employees of critical infrastructure industries, including trucking, public health professionals, financial services and food supply. A full list of critical infrastructure employees who are deemed by the Department of Homeland Security to have a special responsibility to maintain a normal work schedule can be found here.

The travel advisory will be implemented at the full discretion of the governors of New York, New Jersey and Connecticut. The advisory comes after President Donald Trump said Saturday morning he may announce an enforceable quarantine in the New York, New Jersey and Connecticut areas.

Gov. Lamont reports 1,291 confirmed COVID-19 cases, 27 deaths as of Friday afternoon. There are 173 hospitalized at this time. As of Friday, 8,400 tests have been performed statewide

________________________________________________________________________________

Governor Ned Lamont signed an executive order on Thursday stating he is banning the tax on plastic bags because of the safety concerns over reusable bags. The number of positive cases now beyond 1,000 and currently 21 deaths in the state. The governor's latest step is his 15th executive order that continues to lessen some state laws in an attempt to slow the spread.

___________________________________________________________________________________

Stop & Shop plans to hire at least 5,000 employees in the northeast. The supermarket franchise announced its hiring plan on Thursday. Positions are available in stores, distribution centers and delivery operations in Connecticut, New York, New Jersey, Massachusetts and Rhode Island. The regular, not temporary, part-time positions include night crew, cashiers, and porters as well as openings across Stop & Shop's bakery, deli, grocery, produce, seafood and meat departments. Cashiers and baggers must be at least 16 years of age. The other positions require applicants to be 18 years of age. Stop & Shop said it hopes it creates opportunities for people whose jobs have been affected by the coronavirus. _____________________________________________________________________________________

State police announced that there are four positive cases of COVID-19 within the agency. The four cases consist of a trooper from Troop G in Bridgeport, Troop L in Litchfield, the training academy in Meriden, and a recruit from the 129th Training Troop which has been training remotely. All are doing well and are expected to make a full recovery.6:30 p.m.The second Department of Correction employee has tested positive for COVID-19.The custody staff employee was assigned to the Corrigan-Radgowski Correctional Center in Uncasville. The employee last entered the facility on March 21.No other staff members or offenders at the facility have tested positive.The employee's assigned post for the last five days worked was in areas of the building which required minimal interaction with the offender population.

_______________________________________________________________________________________

Ren

owned chef Floyd Cardoz has died from complications tied to the new coronavirus sweeping the globe. CNN and People Magazine confirmed his death with Hunger Inc. Hospitality, where Cardoz was culinary director. Hunger Inc. Hospitality said Cardoz tested positive for COVID-19 on March 18 and was being treated for it at Mountainside Medical Center in New Jersey. _______________________________________________________________

Connecticut State Police are now tackling coronavirus rumors that are emerging across the state.

Below is a list of rumors they have addressed:

1. False Rumor: The State Borders and Highways are closed.

Fact:  The State of Connecticut is not under lock-down; borders are open and will remain open. The public is strongly urged to Stay Safe and Stay Home unless they work in an essential field. State highways remain fully operational. Additionally Rest Areas on I-84 and I-91 remain open 24/7. Service Plazas on I-95, I-395, and the Merritt Parkway remain open 24/7 and will have fuel, bathrooms, convenience stores, and limited prepared takeout food.

2. False Rumor: There is a state curfew in place.

Fact: No state curfews are in place as a result of COVID-19. At this time, there are absolutely no plans for a state curfew. The public is strongly urged to Stay Safe, Stay Home unless they work in an essential field.

Governor Ned Lamont's 'Stay Home, Stay Safe' Executive Order went into effect on Monday, March 23 at 8 p.m. Only essential businesses in the state will remain open at this time.

State Police will also be addressing their rumor control efforts on the state's coronavirus Facebook and Twitter pages.

_________________________________________________________________

Top White House aide Eric Ueland announced the agreement in a Capitol hallway shortly after midnight, capping days of often intense haggling and mounting pressure. It still needs to be finalized in detailed legislative language. "Ladies and gentlemen, we are done. We have a deal," Ueland said. The unprecedented economic rescue package would give direct payments to most Americans, expand unemployment benefits and provide a $367 billion program for small businesses to keep making payroll while workers are forced to stay home. One of the last issues to close concerned $500 billion for guaranteed, subsidized loans to larger industries, including a fight over how generous to be with the airlines. Hospitals would get significant help as well.

________________________________________________________________________________________

Prince Charles, the heir to the British throne, has tested positive for the new coronavirus. The prince's Clarence House office says the 71-year-old is showing mild symptoms of COVID-19 and is self-isolating at a royal estate in Scotland. It says his wife Camilla has tested negative. The palace says Charles "has been displaying mild symptoms but otherwise remains in good health and has been working from home throughout the last few days as usual."

_________________________________________________________________________________________________________________

Coronavirus is impacting the entire country, including Connecticut. Below is a breakdown of developments as they happen:

The number of confirmed cases stood at 223 as of Saturday evening, according to state leaders.

A breakdown of the state's cases can be seen here.

March 22

Governor Lamont announced he will be sending out a message warning residents to "Stay Home, Stay Safe."

4:55 p.m.

Officials in New Haven confirmed two new cases in the city, bringing the total number to 12.

A homeless man that tested positive had escaped care at the hospital and is now in police custody.

A child has also tested positive for COVID-19.

3:50 p.m.

Town officials announced two new cases of coronavirus in Stratford. A male in his 40s and a female in her 80s have tested positive.

Officials say the child that previously tested positive has recovered.

2:55 p.m.

Officials with Day Kimball Hospital confirmed that an obsetrics and gynecology physician tested positive for the coronavirus on March 19. The Day Kimball Hospital is working to contain the case and safeguard the well being of its patients, volunteers, visitors, and staff.

2:50 p.m.

Fairfield University announced online classes will continue for the rest of the spring semester.

The school's residence life team will contact students on Monday with instructions on when students can pick up their belongings.

The 2020 Commencement will not be held in May as scheduled, but the school is making arrangements for them to be held at a later date.

2:45 p.m.

Officials confirmed there are 5 patients at the Evergreen Health Center in Stafford Springs that tested positive for COVID-19. Four patients are in the center and one is in the hospital.

1:25 p.m.

The Newtown Health District announced the town's first case of COVID-19. Officials say that the patient, a woman between the ages of 25 and 49, is currently isolated and recovering at home. The district is also working on notifying all those that have recently come in contact with her.

8:05 a.m.

New Britain Mayor Erin Stewart announced on Twitter the city's first confirmed case of coronavirus. Mayor Stewart says that they were treated at UConn Medical Center and were later released. They are now quarantined in their home for 14 days and are working with the city's public health department. Mayor Stewart adds that the party is resting and doing well.

March 21

8:40 p.m.

Governor Ned Lamont is asking residents to consider signing up for the CTAlert system for phone and text message update about emergency alerts in the state. Find out more information here.

________________________________________________________________

Lamont says all 'non-essential' employees are to stay at home. A new Executive Order will set forth a set of critical industries that can remain open, such as healthcare, food, financial industries, public transportation and childcare services. Others will have to close by 8 p.m. Sunday.

_________________________________________________________________

Gov. Ned Lamont confirms 97 cases of COVID-19 in the state: 69 in Fairfield County; 11 in Hartford County; 5 in Litchfield County; 8 in New Haven County; 1 in Middlesex County; 1 in Tolland County

Nursing home resident at Evergreen Health Facility in Stafford Springs tests positive for COVID-19

Health officials confirm 24 people are hospitalized with COVID-19 in the state right now.

700 COVID-19 tests have been conducted in the state.

4 p.m.

Gov. Lamont announces first death of a person in Connecticut due to severe complications from COVID-19.

The patient, a man in his 80s, had recently been admitted to Danbury Hospital, where he was receiving treatment. He had been a resident of an assisted living facility in Ridgefield

________________________________________________________________

Mohegan Sun announced on Monday that it is temporarily closing parts of the casino as a precaution. Casino officials said they are in discussions with the governor's office about a period of closure to the public.

For the time being, the following areas will be closed:

Race Book

Wolf Den

Earth Tower hotel

All slot machines in the Earth section of the casino

Poker Room

The majority of table games in the Earth section

Summer Valet

Autumn and Summer Essentials convenience stores

Seasons Buffet & Earth Food Court

novelle

Kids Quest / Cyber Quest

Bow & Arrow Sports Bar and all floor bars in Casino of the Earth

Winter Player's Club Booth

Bobby's Burger Palace

Casino officials said the Sky section, "gaming and other amenities will continue until the temporary public closure, every other slot machine will be temporarily deactivated as an additional social distancing measure. The spacing and spreading out of seating for this purpose will be in effect as well for the remaining table games in this section of the casino."

During the temporary closure, officials will focus on cleaning and deferred maintenance.

Governor Ned Lamont of Connecticut, Governor Andrew M. Cuomo of New York, and Governor Phil Murphy of New Jersey today announced a regional approach to combating the novel coronavirus – or COVID-19 – throughout the tri-state area.

These uniform standards will limit crowd capacity for social and recreational gatherings to 50 people effective 8PM tonight. This follows updated guidance that the U.S. Centers for Disease Control and Prevention issued yesterday recommending the cancellation or postponement of in-person events consisting of 50 people or more.

The three governors also announced that restaurants and bars that serve food will temporarily be required to move to take-out and delivery services only. Bars that do not serve food will be required to temporarily close. These measures will take effect at 8PM tonight.

Finally, the three governors said they will temporarily close movie theaters, gyms and fitness centers, and similar public workout facilities and studios. New York and New Jersey will close commercial casinos effective at 8PM tonight. Governor Lamont will do the same for the state's physical off-track betting facilities, noting their willingness to voluntarily close. In addition, Governor Lamont and Governor Cuomo are strongly urging their tribal partners to close tribal casinos.

This uniform approach to social distancing is meant to slow the spread of the novel coronavirus or COVID-19.

President Donald Trump told lawmakers he wants a payroll tax cut that would last at least through the election to give consumer spending a jolt as the coronavirus threatens to cripple economic growth. The president told Republicans at a closed-door lunch Tuesday that he wants the payroll tax rate to drop to zero through the end of the year, according to a White House and a Senate official.

The number of confirmed coronavirus cases in Connecticut is on the rise. State officials confirmed 21 residents have now tested positive for COVID-19 in Connecticut. Health officials said a patient tested positive at UConn Health on Saturday but was discharged from the hospital. The patient and his family were directed to quarantine. UConn Health followed all precautions recommended by the CDC to protect our staff, visitors, patients and learners. Upon arrival the patient was identified and managed as a possible COVID-19 patient and as such all appropriate precautions were taken. Fortunately the patient is doing well and all notifications have been provided to the local and state public health authorities. Governor Ned Lamont said there are now 15 confirmed cases in Fairfield County, 3 cases in Litchfield County, 1 in New Haven County, and 1 in Hartford County.

A city man in his 40s is Norwalk's first confirmed case of coronavirus. Mayor Harry Rilling said the man contacted city health officials about his diagnosis. During a press conference Saturday at City Hall, Norwalk Director of Health Deanna D'Amore encouraged residents and business owners to limit social gatherings.

Yale says that a member of their community has tested positive for coronavirus on a preliminary test. Yale-New Haven Health officials say that its Chief Nursing Executive has tested positive. She is now self-isolating at home. Another Yale-New Haven Chief Clinical Officer has tested negative but is self-quarantining at home as a result of his wife's tested positive. All three patients are under the care of physicians at Yale-New Haven Health.

First responders were called to an inbound plane at Bradley International Airport on Saturday morning where a passenger was experiencing mild flu-like symptoms. Just before noon, the airport's AARF department responded to a Spirit Airlines flight that had just landed at Bradley. The passenger was evaluated, but it was determined the passenger did not require further medical attention. The passenger was taken to a nearby hospital.  No other operations at the airport were impacted.

The Mass Gaming Commission has voted to temporarily close all casinos in the state of Massachusetts. The decision was made during an emergency meeting Saturday morning. MGM Springfield, Encore Boston, and Plainridge Park Casino will also cease operations immediately and officials will reevaluate the situation in two weeks. This story is developing and we will provide you with the latest update as soon as more information becomes available.

The Department of Social Services is making changes to Medicaid and Husky Health Program to offer more services, specifically focusing on telemedicine services, including real-time video conferencing with health care providers for medical and behavioral health services. This will affect some 850,000 people enrolled. State leaders said they are working with federal partners and hope to announce more benefits going forward.

The state is making changes to the Small Business Express Program, deferring loan payments for three months. Officials said that means an estimated $5 million in loans will be deferred and no interest will accrue during that time. The state said they are also working on a broader package to help both businesses and individuals through the uncertainty and disruption.

Starting Monday, more than half of Connecticut students won't be in school. Thousands of those students rely on the Federal School Lunch and Breakfast Program for two meals a day. The State Department of Education is working with school districts and community organizations that worked on the summer meal program last year to continue the distribution of those meals.

According to the South Windsor town manager, officials are monitoring a presumptive case of COVID-19 in town.  In a letter to residents Friday evening, Town Manager Michael Maniscalco confirmed the presumptive case, which he said means the individual is showing symptoms of COVID-19 and is in quarantine, but has not yet been tested.  Another person is in self-quarantine but is not showing any symptoms.

Chief Operating Officer Josh Geballe  observed the first positive result of COVID-19 pandemic last Friday. State Epidemiologist Matthew Cartter announces the number of positive patients has increased to 11, including a Greenwich resident who was tested in Utah

State Epidemiologist Matthew Cartter says Greenwich Hospital, Bristol Hospital and Waterbury Hospital have set up isolated COVID-19 testing locations separate from main hospitals.

Department of Labor suspending work search requirements for unemployment benefits and another mandate that requires certain recipients appear in-person at American Jobs Center, COO Josh Geballe  said.

They are developing more ways to tele-med with Medicare and Husky patients…over 850,000 people effected.