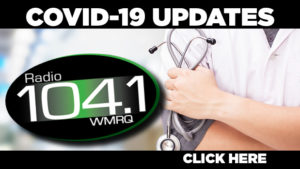 JUNE 22ND – Coronavirus-related hospitalizations are continuing to drop.

State data released by Governor Ned Lamont midday Sunday indicates that there currently only 149 people hospitalization due to COVID-19 — 1 fewer than Saturday.

The report also revealed that since the pandemic started, there have been 45,755 confirmed cases in the state and 4,260 deaths (9 more than Saturday).

So far, 393,475 people have been tested for coronavirus in the state.

JUNE 22ND – YMCAs across Connecticut will be reopening their doors today for the first time since mid-March, and it's going to look a little different.

The Connecticut Alliance of YMCAs is announcing its plans to reopen their centers and camps later this morning. A part of their reopening plan is checking temperatures before you enter, wearing a face mask in common areas like the lobby, bathrooms and weight rooms. They've also added more hand sanitizing stations

Here's what's available starting today:

Wellness Center (cardio, strength and free weights)

Pool (lap swim and family swim)

Limited Group Fitness classes (virtually and outside)

Personal & small group training (outside and inside)

Summer Camp (beginning June 22)

What will remain unavailable:

Locker rooms (Available for restroom use only)

Babysitting (Kids Corner)

Basketball, Pickleball, Open Gym and Indoor Track

Steam rooms

Saunas

You'll have to bring your own exercise or yoga mat if you plan to use one, and bring a water bottle — water fountains will be unavailable except for refilling your water bottle.

Another change is having to make reservations. Since they'll be operating at a limited capacity, you'll need to reserve a spot for things like Group Fitness Classes, Personal Training and swimming laps in the pool.

They'll be offering more details on how this will all work later this morning at Dunkin Donuts Park in Hartford.

JUNE 16TH – Coronavirus hospitalizations have dropped once again — just two days before Phase 2 of the reopening. On Monday, state data indicated that there were 203 hospitalizations — two fewer than Sunday. The report also revealed that since the pandemic started, there have been 45,235 cases and 4,204 deaths (three more than the day prior). So far, 354,445 have been tested in the state.

JUNE 15TH – We are only three days away from phase two of reopening Connecticut after statewide closings due to the coronavirus. Here's what to expect when you leave the house June 17. Phase two reopenings will include:

Amusement parks

Indoor dining

Hotels

Indoor museums, zoos, and aquariums

Indoor recreation (e.g. bowling, movie theaters, etc.)

Libraries

Outdoor events

Personal services (e.g. nail salons, tattoo parlors, etc.)

Sports and fitness facilities (e.g. gyms, fitness centers, pools, etc.)

In gyms, all staff and guests/clients must wear a mask while working out. Outdoor sporting events on fields will allow just two teams, officials, and limited family members. Coaches and staff and spectators must wear masks. Indoor facilities will be limited to 50% capacity.

Outdoor basketball courts and tennis courts can open. Coaches should keep players in small groups. Sports travel remains limited. Players are recommended to travel alone or with immediate family only. Game balls will be disinfected before and after every clinic, practice, or game.

Additionally, restaurants will be allowed to open their indoor dining. All tables must be at least six feet apart, and guests must wear masks to and from their tables.

Indoor seating capacity will be limited to 50%, and some seating situations will need physical barriers.

Last week, houses of worship began to reopen for in-person services of no more than 100 people (or 25% capacity, whichever is smaller). For outdoor services, no more than 150 people will be allowed.

JUNE 12TH – Yale New Haven Health has reported another drop in COVID-19 patients at its five hospitals. Compared to more than 800 at it's peak! The numbers are down to 105. Yale New Haven Health experts warn — we can't let our guard down. "If there's mass gathering, there is really the potential for the virus to take off and spread again," said Dr. Thomas Balczcak. "We are no means through it and the virus has not burned itself out." Right now there are 62 patients treated for COVID at Yale New Haven Hospital, which is down from 440 at the peak. More than half are in the intensive care unit.

JUNE 12TH – Coronavirus hospitalizations are continuing to trend down. On Thursday, state data indicated that there were 246 hospitalizations — 24 fewer than Wednesday. The report also revealed that since the pandemic started, there have been 44,461 cases and 4,146 deaths (26 more than the day prior). So far, 320,044 have been tested in the state.

JUNE 11TH – As of June 10, 2020, Connecticut's death toll from coronavirus stands at 4,191. The model predicts the mostly-flattened curve continuing to rise slowly with 4,446 deaths by August 15, 2020. Now experts must take into account the large crowds of protesters and demonstrators who are not always able to social distance properly. Modeling has been tremendously helpful in helping Hartford Healthcare plan ahead on many levels. "We can map our personal protective equipment, we can map our ventilators, we can map our critical care nurses, our physicians who do airway management and critical care physicians," says Jeffrey A. Flaks, President and CEO of Hartford Healthcare.

JUNE 11TH – With the state's Phase 2 reopening set for exactly one week from Wednesday, some businesses are still not happy with the state's plan. When the pandemic began, small business owner Luis Ramirez and his wife didn't mind pressing pause on their salon, Roxy Nails in Hartford. But when weeks turned into months, they'd had enough. This week, the Ramirez's filed suit against the state, chafing at a reopening plan Luis says left their business in last place. They want to reopen right away. Even with reopening set for next Wednesday, the Ramirez's aren't backing down.

JUNE 11TH – Coronavirus-related hospitalizations are continuing to trend downward as the state is just one week away from Phase 2. On Wednesday, state data indicated that there were 270 hospitalizations — 23 fewer than Tuesday. The report also revealed that since the pandemic started, there have been 44,347 cases and 4,120 deaths (23 more than the day prior). So far, 315,014 have been tested in the state.

JUNE 1 – Governor Ned Lamont reported Sunday, COVID-19-related hospitalizations in the state continue to drop as deaths associated with the virus reach nearly four thousand. In his daily report Sunday, the governor reported that – since the pandemic began – 42,201 people have tested positive and 3,944 have died of the virus. 481 are currently hospitalized with the virus. Since the pandemic began, 250,046 have been tested for the coronavirus. The new information released Sunday included a note about incomplete data:

JUNE 1 – The first of June marks the reopening of barbershops, salons, tribal casinos and more in Connecticut. Mohegan Sun and Foxwoods had soft re-opening over the weekend for VIP guests. Today, they open to the public with socially distant measures in place. Governor Lamont has been urging the casinos not to serve alcohol, but neither has agreed to that. Visitors will be required to wear masks. Barbershops and hair salons are also reopening today after an eleven-day delay. They were slated to reopen May 20, but the Governor Lamont moved that date after pushback from some salons that wanted more time to prepare. Whether you're interested in gambling or getting that long-overdue haircut, things will look a lot different with face coverings and socially distant measures in place. And you will need an appointment in advance to go to the salon. Dental offices are also reopening across the state as well as Beardsley Zoo in Bridgeport. You can now technically gather together with a few more people than before.

MAY 29TH –  New research shows how dangerous the coronavirus is for current and former cancer patients. Those who developed COVID-19 were much more likely to die within a month than people without cancer who got it, two studies found. They are the largest reports on people with both diseases in the United States, the United Kingdom, Spain and Canada. In one study

, half of 928 current and former cancer patients with COVID-19 were hospitalized and 13% died. That's far more than the various rates that have been reported in the general population.

MAY 29 – Stop & Shop has announced that they are extending its 10 percent pay increase for hourly store associates through July 4. The grocery chain says the appreciation pay recognizes the efforts of its workers during the Covid-19 pandemic and covers nearly 56,000 associates in over 400 stores throughout the Northeast. The pay increase was first announced by Stop & Shop on March 20 and then extended through the end of May. New associates hired prior to May 30 will also receive the pay increase. The company has hired more than 8,000 new employees since mid-March. Stop & Shop will also continue to implement safety measures to protect the health of associates and customers during the pandemic.

MAY 27 – Coronavirus-related hospitalizations in the state have dropped once again. Governor Ned Lamont announced that 694 people are currently hospitalized with COVID-19, 12 fewer than Monday. According to state data, 430 more people have tested positive, bringing the total in Connecticut to 41,303. Another 27 people have died, bringing the total virus-related deaths in the state to 3,769 since the pandemic started. So far, 225,362 COVID-19 tests have been administered.

MAY 27 – On Wednesday, U.S. Senator Blumenthal will join New Haven Mayor Justin Elicker in visiting New Haven's newest COVID-19 testing site. On the Green in New Haven at 12:30 p.m., Senator Blumenthal plans to be tested for COVID-19 at the new site. The Wednesday pop-up testing site will be open from 8:00 a.m. until 4:00 p.m.

It's also been one week since part of the state started to reopen. Governor Lamont and his administration saying time and time again how important increased testing is. On Monday, the governor released a 44-page detailed reopening roadmap as we look ahead to the other phase. Phase two as of right now could happen as early as June 20. Of course, before that happens there are things that need to happen and improvements made. Testing is a major part as we look ahead to phase two. In the roadmap, the governor says he wants 100,000 tests done a week. Other things the administration wants to see before phase two is:

Less than 100 bed net increase in hospitalizations in the last week of phase one

Protection plan and testing plan for key workers and high-risk communities

Specific rules and regulations for those businesses included in phase two two weeks prior to the next reopening

MAY 22 -CVS is opening thirteen new drive-thru testing sites here in Connecticut on Friday. You'll find them in stores in West Haven, Bristol, Hartford, East Hartford, Gales Ferry, East Lyme, Putnam and Uncasville. Those new sites put 25 CVS coronavirus testing locations on the map in our state. You will have to schedule an appointment before you go in for a test.

MAY 22 -The DMV is further extending deadlines for some of your credentials that may be expiring amid the coronavirus pandemic. Anything with an expiration date like licenses, registrations and emissions tests will be given a 180-day extension. They have to have expired between March 10 and June 30 to qualify. The DMV closed in-person service at branches back in March when social distancing rules first went into effect. For more information, click here: https://portal.ct.gov/dmv

MAY 21 –  Thousands of UConn students who still have their belongings in their dorm rooms after being forced out abruptly because of the pandemic, will be able to get them starting June 1. The university says it has a system in place to maintain social distancing on campus. Students will have to go to the school's website and register for a date and time to move the things out. They'll only be allowed on campus at their scheduled move out time. There will also be a designated spot for students to return their keys.

MAY 19TH – Metro-North is offering free antibody testing to all employees, in a partnership with Northwell Health and Bioreference Laboratories. 7,800 Metro-North employees have already gotten antibody tests. Priority will be given to essential employees performing critical operational roles. People with coronavirus symptoms cannot get an antibody test.

MAY 19TH – Governor Ned Lamont announced Monday he is delaying the reopening of hair salons and barbershops to June 1. Some salon owners and stylists say they are relieved, but others are livid that the decision was made so close to when they had planned to reopen. Salons and barbershops were originally due to reopen on Wednesday, May 20, during phase one of the state's reopen plan amid the coronavirus pandemic. On Monday, we saw a protest urging Governor Lamont to postpone opening hair salons instead of letting them open Wednesday. So he did. On Tuesday, there's a protest planned here from hair salons who say they were all set to open tomorrow and now they can't. However, both Governor Lamont and Rhode Island Governor Gina Raimondo now intend to reopen hair salons and barbershops in their respective states in early June. Lamont announced that the new target date for reopening salons and barbershops is June 1.

MAY 18TH – On Sunday, May 17, new numbers released by Governor Ned Lamont reveal coronavirus-related hospitalizations in the state continue to trend down, with 937 people currently in the hospital due to COVID-19, 57 less than on Saturday. State data shows that 716 more people have tested positive for coronavirus, bringing the total in Connecticut to 37,419. Another 69 people have died in the last 24 hours, totaling 3,408 virus-related deaths in the state. So far, 170,607 coronavirus tests have been reported to the state since the pandemic began. Since Saturday, another 5,852 coronravirus tests have been conducted.

MAY 18TH – Phase one of the governor's reopening plan is kicking off on Wednesday, May 20. Now, one of the key industries included in the plan is pushing back citing safety concerns. A Facebook group called CT Stylists for late-stage openings has the support of the Connecticut beauty association and has grown to more than 3,500 in less than a week. Now, stylists are planning to protest Monday afternoon at the state capitol to encourage the committee advising Governor Lamont on reopening to push back the reopening date for salons across the state. The governor initially said salons could reopen but couldn't use blow driers. That guidance was changed after minority-owned businesses pushed back saying it would disproportionately impact their clients.  Stylists say they want more information about how they can observe social distance and do their jobs. They also have concerns about having enough PPE.

MAY 18TH – Connecticut will slowly begin to reopen starting on May 20. Phase one is set to start Wednesday, and certain businesses will be allowed to welcome people back.  However, there are strict guidelines that will need to be in place to protect not only the employees, but the customers as well. Here is what will be allowed to reopen in phase one:

Restaurants:

MAY 15TH – Six days before Connecticut starts a gradual and phased reopening of businesses, and data from the Department of Public Health is showing some positive signs. Connecticut Coronavirus Hospitalizations – Gov. Ned Lamont and other state leaders have said that a continued downward trend of hospitalizations is key to reopening.  Connecticut has seen 20 days of hospitalization decline, with the exception one small uptick midway on May 4. On May 14, DPH reported 1,103 people in Connecticut hospitals for COVID-19. That's down 869 from the 1,972 people in the hospital on April 22. The last time hospitalizations were this low was April 4.

MAY 15TH – There appears to be somewhat of a surge in COVID-19 testing in Connecticut ahead of the state reopening May 20. Symptoms or no symptoms, why should you get tested? Thursday, Governor Lamont reported an increase of 6,619 tests administered in the last 24 hours, with nearly 150,000 CT residents tested since the pandemic began. New Haven is now offering tests for asymptomatic residents ahead of businesses reopening May 20. There are two types of COVID tests available. One detects the virus, the other checks for exposure.

MAY 14TH – As Connecticut plans to reopen next week, the Reopen Connecticut Advisory group will hold a 10 AM meeting on Thursday, May 14. The meeting will focus on the impact of COVID-19 on Connecticut's business community.  Questions can be sent through email to the panel at reopen@ct.gov. The discussion will be broadcast live on CT-N on TV and live-streamed on its website.

MAY 13TH – Governor Ned Lamont's administration mentioned during the daily press briefing Wednesday, the plastic bag tax will be re-implemented after being suspended due to the COVID-19 pandemic. Later that evening, Lamont announced the suspension for the tax will be extended through June 30. The governor's original executive order that was issued in March, suspended the tax through Friday, May 15.

MAY 12TH – Governor Ned Lamont announced Tuesday that Connecticut has received its single largest shipment of personal protective equipment (PPE) in the fight to combat COVID-19.  The equipment, which came from suppliers in China, has been delivered over the last couple of days to the state's commodities warehouse. It includes:6 million surgical masks; ·       500,000 protective masks; ·       100,000 surgical gowns; and ·       100,000 temporal thermometers. Gov. Lamont said the equipment is in the process of being sorted and will be delivered in the coming days to frontline workers, including first responders, hospital staff, long-term care facility staff, direct care providers, and other people on the front lines.

MAY 11TH – On Mother's Day, May 10, Governor Ned Lamont reported 33,554 people have tested positive for COVID-19 in the state since the pandemic began, and 2,967 people have died of the virus. The governor also reporting the number of hospitalizations relating to the virus has decreased again to 1,242 (59 down from Saturday). And the number of people tested in the state has reached 130, 192 (up 6,623 since Saturday).

MAY 11TH –  Emergency room visits are down in Connecticut and now health officials want to make sure people are getting the message that it's OK to seek treatment for conditions other than Coronavirus. One health system took a deeper look and were concerned by what they saw. Trinity Health of New England includes Catholic hospitals from Waterbury to Springfield, including Hartford's St. Francis. And when they took a glimpse at a 30-day period comparing this year to last year, a startling narrative emerged. ER visits for heart failure are down more than 50 percent. Heart attacks are down nearly 50 percent and strokes are down more than 40 percent.

MAY 11TH – Governor Lamont's Reopen Connecticut Advisory Group will meet on Monday (Today) to discuss questions surrounding reopening schools. Last week, Governor Lamont announced school buildings will remain closed through the end of the school year. They're calling Monday's meeting an Education Roundtable because it's meant to address education from daycare to higher education and everything in between. All of this will get underway at 11 am. Members of the public can send in questions ahead of time via email to reopen@ct.gov.

MAY 11TH – State officials are calling on civic-minded residents to add to the volunteer efforts supporting communities. In addition to medical professionals volunteering in hospitals, the state also needs all kinds of volunteers doing all kinds of things. There are lots of programs that help people with intellectual disabilities and behavioral health issues. They need volunteers, and so do organizations that support senior citizens. Governor Ned Lamont announced Sunday that the State of Connecticut and its non-profit partners are looking to continue the momentum with the number of volunteers that have come forth to provide assistance. More than 5,000 medical volunteers and 1,600 non-medical volunteers have worked front-line in providing assistance to Connecticut's hospitals and health systems, said the Governor.

MAY 11TH – Salons, like restaurants, are part of Connecticut's Phase One of reopening beginning May 20. Although some hairstylists have come forward with safety concerns and say salons should not be a part of this first stage. State leaders have detailed new conditions for retailers, restaurants, and even hair salons for phase one of reopening Connecticut. Some of the restrictions include 50% capacity in the building, hand sanitizer and cleaning wipes present at entrance points, work stations must be six feet apart with physical barriers, and stylists will not be allowed to use blow dryers over concerns of moving possible contaminants around.

MAY 9TH – As the state's casinos await word about which phase of the reopen plan they fall into, the economic impact of the Coronavirus pandemic hit even harder as Foxwoods announced what it's calling temporary layoffs, set to begin at the end of May.

MAY 8TH – Just 24 hours after detailing the seven criteria the state needs to hit to reopen, leaders announced the guidelines restaurants, retailers, hair salons and offices need to meet. State leaders said those businesses are not required to open on May 20, but owners are allowed to if they decide that's what best for their business.

Restaurants

Restaurants will be allowed to do takeout or outdoor dining only — bars will remain closed. Outdoor capacity will be capped at 50%. Play areas and dance floors will also remain closed. Tables must be placed six feet apart, and tables and chairs must be sanitized between diners. Restaurants must supply disposable (paper) or digital menus or have them displayed on a whiteboard/chalkboard. Silverware must be packaged or rolled, and a contactless payment method is preferred at checkout.

Salons

Like, restaurants, hair salons must be kept to 50% of the budling's capacity. Waiting rooms must be kept closed, and services will be by appointment only. A contactless payment method is preferred. Work stations must be kept six feet apart with physical barriers placed wherever possible. Where six feet of separation is not possible, barriers will be acceptable, according to Friday's announcement. Tools need to be soaked in disinfectant between clients. Hand sanitizer and cleaning wipes must be available at entrance points, and high contact areas and bathrooms must be cleaned frequently.

Employees are to wear masks and face shields or eye protection. Customers must wear masks as well. Each client must be given a clean smock to wear. Stylists will not be allowed to use blow dryers over concerns of moving possible contaminants around. Salons are encouraged to increase ventilation and airflow where possible. Nail salons, which were initially allowed to reopen on May 20, must remain closed.

Retailers

Retailers must cap capacity at 50% and keep dressing rooms and self-serve counters closed. Markers indicating six feet must be placed on checkout lines. Physical barriers must also be placed at checkout areas. Contactless payment methods are preferred at the register. High contact areas such as carts, baskets, door handles, credit card machines and bathrooms must be cleaned frequently. Hand sanitizer and cleaning wipes must be available at entrance points. Employees and consumers are required to wear face masks at all times.

Offices

Offices should be used in cases when work from home is not possible. If in use, the facility may not pass 50% capacity. Meetings will be limited to five people, and employees must be kept six feet apart. Physical partitions should be placed where possible, and people are asked to restrict elevator capacity. Masks are to be worn at all times unless the person is in a private office. Employers are asked to increase ventilation and airflow when possible. Officials said more information on cleaning would be coming soon.

MAY 7TH – Brass City Regional Food Hub opens for residents From Mayor O'Leary's Facebook Page – he wrote "The Brass City Regional Food Hub is ready to open and provide fresh CT grown dairy, ice cream, yogurt, cheese, honey, fresh-baked bread, and regionally sourced fresh produce. Our produce is sanitized before it reaches our customers." "Starting Thursday, May 7th – and every Thursday, from 9 am to 1 pm. We will also have a selection of hanging baskets from a local farm. The food hub is located at 359 Mill Street – rear loading dock area. Curbside pickup available. Pre orders preferred. Free delivery in Waterbury to seniors and the disabled. To hear product availability, pricing, and to pre order, please call 203-982-2272."

MAY 7TH – Coronavirus-related hospitalizations have dropped once again following a one-day increase. There are 1,445 people in the hospital — 55 fewer than Tuesday. State data shows another 374 people have tested positive for the virus, bringing the total to 30,995. Another 85 people have died of COVID-19 — 2,718 in total. In total, 111,447 people in the state have been tested.

MAY 7TH – Governor Ned Lamont announced that he has received a detailed report containing recommendations for reopening Connecticut's colleges and universities. The recommendations include the gradual reopening of higher education campuses over the course of the summer – at the discretion of each institution. By the fall semester, if health conditions permit, all of the sectors may reopen, although institutions will be free to decide whether they need more time for certain programs to restart.

MAY 6TH – Dunkin' is offering all health care workers a free coffee and donut in Connecticut on May 6th, which is National Nurses Day.  Dunkin' says it is offering a free medium hot or iced coffee and a free donut – no purchase necessary – while supplies last. In addition, the Dunkin' Joy in Childhood foundation announced a $200,000 grant to develop the "Hero Recharge" program, which will help health care professionals experiencing trauma.  The grant will go to the First Descents, a global leader in adventure-base healing.

MAY 6TH – Local Connecticut grocers will be meeting today at 10:30 a.m. to discuss the nationwide meat shortage. The shortage is due to COVID-19 affecting meat processing plants and their employees. Due to the shortage, places like Wendy's have stopped serving hamburgers altogether at 1,300 of their franchises, and grocery stores are limiting meat purchases per day per customer. The meeting will be held at Stew Leonard's in on the Berlin Turnpike in Newington. Stew Leonard Jr., the CEO of Stew Leonard's, will be discussing what to expect, the duration of the shortage, and what he's being told by ranchers and meat providers.

MAY 6TH – With schools remaining distance-only learning for the remainder of the academic year amid the COVID-19 pandemic, some parents may already be left with the dilemma of what to do about childcare. The good news, it looks like some parents will get relief from summer camps. The American Camp Association has been working with the Center for Disease Control and Prevention. And while camps are set to open, they will have very specific guidance, and for children and their families, this might provide a little bit of some sense of normalcy. Additional strict guidelines will be released on May 15. The decision comes with support from the Reopen CT Advisory Group, the Health Team, and with the Office of Early Childhood.

MAY 6TH Coronavirus-related hospitalizations have increased for the first time in nearly two weeks. There are 1,500 people in the hospital — 36 more than Monday. While Governor Ned Lamont said the increase in hospitalizations is unfortunate, he still plans to reopen parts of the state on May 20. State data shows another 648 people have tested positive for the virus, bringing the total to 30,621. Another 77 people have died of COVID-19 — 2,633 in total. In total, 108,643 people in the state have been tested. (story posted 5/5)

MAY 6TH Governor Ned Lamont announced Tuesday that in-person classes at K-12 schools will remain closed for the rest of the school year. Schools will continue distance learning through the end of each district's official calendar year and will continue providing meals to children under school lunch and breakfast programs. Four million meals have been distributed to students across the state since the beginning of the pandemic.

MAY 5TH Governor Ned Lamont announced Sunday, May 03, Connecticut is seeing an 11th straight day of declining coronavirus hospitalizations. The governor reported the state now has 1,488 COVID-19-related hospitalizations state-wide (63 down from Saturday), and 2,495-related deaths (59 up from Saturday). The governor added that the state will have a more comprehensive coronavirus numbers report Monday, including new positive case numbers and test data for both Sunday and Monday. In a press conference with regional governors early Sunday afternoon, Governor Lamont and Governor Cuomo both warned that, even though some numbers are dropping or slowing down, we are not out of the woods for this pandemic. Both urged the public to wear masks when they are out in public and keep six feet from people as much as possible to slow and/or stop the spread of the virus. (story from 5/3)

MAY 4TH Governor Ned Lamont is expected to make an announcement sometime this week regarding when schools will reopen or if they will. Governor Andrew Cuomo announced New York schools will not be reopening this school year. He's the first governor in the Tri-state area to make that decision. Governor Charlie Baker in Massachusetts also made the announcement that schooling will stay online through the end of the school year. New Hampshire has decided to end their school year early on May 30. Here in Connecticut, the state's largest teachers union is urging Governor Lamont to be cautious before deciding whether to reopen schools this semester.

Coronavirus-related hospitalizations have trended down for the seventh day in Connecticut. There are 1,691 people in the hospital — 41 fewer than Tuesday. State data shows another 455 people have tested positive for the virus, bringing the total to 26,767. Another 79 people have died of COVID-19 — 2,168 in total. So far, 94,818 people have been tested in the state. (story from 4/30)

Nationwide IKEA has donated $1.6 million dollars to help communities during the COVID-19 pandemic. Part of the million-dollar donation will go towards the city of New Haven. IKEA in New Haven is donating over $17,000 in furniture to the City of New Haven Health Department. The focus of the donation is on the homeless population during this pandemic.  Homeless shelter staff has been working to place these individuals from hotels into permanent housing. These individuals are moving into empty apartments and in some cases with only a sleeping bag. On Thursday at 10 a.m., the company will provide key home essentials for 30 units that include kitchen tables and chairs, pots and pans, dressers, bed frames and mattresses, sheet sets, bed pillows, bath towels, and bath mats.

Mohegan Sun announced on Wednesday that it is pushing back it's reopening date at this time. The casino now says it'll remain closed through May 12. Earlier this month, both Mohegan Sun and Foxwoods Resort Casino shut down.  Mohegan had said it would remain closed until April 30, however that is no longer the case.  A tribal spokesperson said they are working on new protocols for a safe and healthy opening. Foxwoods has not released a reopening date at this point, just saying on its website that it is temporarily closed.

Coronavirus-related hospitalizations have trended down for the sixth day in Connecticut. There are 1,732 people in the hospital — 26 fewer than Monday.  State data shows another 315 people have tested positive for the virus, bringing the total to 26,312. Another 77 people have died of COVID-19 — 2,089 in total.  So far, 92,745 people have been tested in the state. (story from 4/28)

A new coronavirus testing site is opening in New Haven on Wednesday.  Officials said the site is in the Dwight Street neighborhood — one of the Elm City's hot spots for the virus. The first thing you need to know is that it is a walk-up testing site at an outdoor basketball court at Chapel and Day street, just a couple blocks from St. Raphael's Hospital.  Walk up means you do not need to have a car like at some other testing sites and around the state. That is important because this is one of the hardest-hit neighborhoods in New Haven, and it is one of the poorest neighborhoods, which means not a lot of people in this neighborhood have cars. That's why having a walk-up site is so important. But walk up does not mean the same thing as a walk-in.

If you have recently filed for unemployment benefits, check your bank account for a $600 enhancement. More than 20 percent of the state has now filed for unemployment – the highest it's been since the Great Depression. Starting this week, an additional $600 is supposed to be heading to those families struggling right now. The additional $600 weekly payment, known as Federal Pandemic Unemployment Compensation, was created as part of the emergency response to the COVID-19 pandemic. It is retroactive to March 29, 2020 and will be provided ‪through July 25, 2020‬. If you applied for jobless benefits over the weekend, you'll see that money drop into your account today. If you filed before that, you'll receive your retroactive $600 weekly payments in full at the end of the week. People who are self-employed or freelance can begin applying for unemployment on Friday.

A new partnership was announced Tuesday in an effort to boost coronavirus testing in Connecticut. The state has put out a call for proposals from other companies to do testing. Hartford HealthCare and Quest Diagnostics have joined forces to increase the amount of COVID-19 testing done in Connecticut. The new partnership will increase Hartford HealthCare's testing capacity by 2,500 tests per day. It's estimated that 40 percent of people who have the virus don't show symptoms, so the governor also wants to launch random testing.

As of Tuesday, nearly 350,000 people in Connecticut have filed for unemployment due to the coronavirus crisis. With the Department of Labor facing major backlogs, families across the state are struggling. One single mother shared her heartbreaking story with News 8's Sabina Kuriakose.

Governor Ned Lamont says 15-20% of the entire workforce in Connecticut is out of work due to the pandemic, and the Department of Labor has a six-week backlog on processing claims. At his briefing Tuesday, Lamont said he expects the DOL to tackle the backlog within the next week and a half.

National Guard troops will be rolling up their sleeves for another day to help UConn Health battle the COVID-19 crisis in our state. On Monday, the National Guard will be at UConn Health in Farmington to help set up a new field hospital. The hope is that all these extra beds won't be needed despite the expected overflow of coronavirus patients. The philosophy behind these efforts: it's better to be over-prepared.  The Guard will put up 136 surge beds at UConn Health and provide equipment for an additional 107 beds on the 7th floor in case they are needed.

Activists are starting what they call a week of protests at Connecticut prisons. The protestors say not enough is being done to protect the state's inmates from the coronavirus. The first stop for the protestors on Monday is outside York Correctional Center in Niantic. Not enough being done and the wrong things being done to keep inmates from getting the coronavirus is what protestors are saying. They've already held a few of these protests done mostly from the safety of their cars in this age of social distancing.

Governor Lamont will provide an update later Friday morning on the state's response to COVID-19. Thursday afternoon, Gov. Lamont announced that schools in the state would remain closed at least until May 20. Connecticut officials said the decision to close schools in the state until at least May 20th was not one that was made lightly.

The Connecticut Department of Consumer Protection (DCP) announced Thursday that the state has received a donation of hydroxychloroquine from Amneal Pharmaceuticals to distribute to acute care hospitals as they combat the COVID-19 pandemic. The Food and Drug Administration (FDA) recently authorized emergency use of hydroxychloroquine to treat COVID-19 in certain hospitalized patients. Hydroxychloroquine is traditionally used to treat autoimmune diseases such as lupus. Shipment of the medication direct to medical facilities, will ensure that patients have direct access to the medication and aims to limit hoarding and inappropriate use or prescribing. The donation was secured through DCP's Drug Control Division in collaboration of the Connecticut Hospital Association.

After a month of testing for and treating coronavirus, we have lost many people, but far more people have fully recovered. The antibodies the now-healthy carry inside them may be the key to helping those currently sick. Trinity Health of New England is one of four healthcare systems that just got FDA approval to start testing that plasma on coronavirus patients. Trinity Hospitals like St. Francis in Hartford have already tested a thousand people who were positive for Covid-19. They are accepting other volunteers as well, and this is not something far off in the future. This has already been tried in hospitals in China. One reported an experiment with five coronavirus patients. If the Trinity Health study goes well, other hospitals around the country would be able to quickly start doing the same thing.

With Governor Lamont planning for the Coronavirus pandemic to last into at least June, the governor is taking action to secure 60,000 laptops for high school students in the state.

The partnership for Connecticut is ordering $24 million worth of computers for Connecticut's neediest districts. Since the governor says the pandemic will likely stretch into June, it's unclear if those computers will make a difference this school year.

It's a partnership between private philanthropists and the state known as the Partnership for Connecticut. On Tuesday morning, its board unanimously approved a nearly $24 million purchase of 60,000 Dell laptops.  The laptops will go to Connecticut students in the 33 lowest-performing districts known as Alliance Districts.

As of Monday (4/6) afternoon, the total number of coronavirus cases in the state stood at 6,906, Gov. Ned Lamont said. The number of deaths linked to coronavirus reached 206.

April 7

8:30 a.m.

Health officials confirmed the first COVID-19 related death in Waterford. The Ledge Light Health District said the resident was an elderly female. "It is with regret I inform you all that we have lost our first Waterford resident to the virus,"  said Robert Brule, Waterford first selectman. "I would like to extend my deepest prayers and condolences to the family. Please everyone, stay home & stay safe!"

On Wednesday, The North Haven Police Department announced nine residents tested positive for coronavirus, bringing the total in the state to 3,137. Since Monday, 557 new cases have been confirmed in Connecticut and, in the last 24 hours, 16 people have died. 17 deaths were reported Tuesday that had not yet been reported over the course of the last two weeks.

The City of Meriden confirmed the first death of a Meriden resident from COVID-19 Monday evening. The city reported the deceased was in their 40s. It is unknown how the individual contracted the illness. This comes just over a week after the city reported its first case.

President Donald Trump is extending the voluntary national shutdown for a month as sickness and death from the coronavirus pandemic rise in the U.S. The initial 15 days of social distancing urged by the federal government is expiring and Trump had expressed interest in relaxing the guidelines at least in parts of the country less afflicted by the pandemic. But instead he decided to extend them. Many states and local governments have stiffer controls in place on mobility and gatherings. The federal guidelines recommend against against large group gatherings, promote social distancing, and urge older people and anyone with existing health problems to stay home.

On Saturday, March 28, Governor Lamont confirmed 33 people have died in the state as a result of the coronavirus, and 233 more Connecticut residents have tested positive, bringing the total to 1,524. 205 people in Connecticut have been hospitalized.

The Centers for Disease Control and Prevention issued a Domestic Travel Advisory for Connecticut, New York and New Jersey effective immediately. The advisory urges state residents to refrain from non-essential domestic travel for 14 days starting Saturday night.

This advisory does not apply to employees of critical infrastructure industries, including trucking, public health professionals, financial services and food supply. A full list of critical infrastructure employees who are deemed by the Department of Homeland Security to have a special responsibility to maintain a normal work schedule can be found here.

The travel advisory will be implemented at the full discretion of the governors of New York, New Jersey and Connecticut. The advisory comes after President Donald Trump said Saturday morning he may announce an enforceable quarantine in the New York, New Jersey and Connecticut areas.

Gov. Lamont reports 1,291 confirmed COVID-19 cases, 27 deaths as of Friday afternoon. There are 173 hospitalized at this time. As of Friday, 8,400 tests have been performed statewide

________________________________________________________________________________

Governor Ned Lamont signed an executive order on Thursday stating he is banning the tax on plastic bags because of the safety concerns over reusable bags. The number of positive cases now beyond 1,000 and currently 21 deaths in the state. The governor's latest step is his 15th executive order that continues to lessen some state laws in an attempt to slow the spread.

___________________________________________________________________________________

Stop & Shop plans to hire at least 5,000 employees in the northeast. The supermarket franchise announced its hiring plan on Thursday. Positions are available in stores, distribution centers and delivery operations in Connecticut, New York, New Jersey, Massachusetts and Rhode Island. The regular, not temporary, part-time positions include night crew, cashiers, and porters as well as openings across Stop & Shop's bakery, deli, grocery, produce, seafood and meat departments. Cashiers and baggers must be at least 16 years of age. The other positions require applicants to be 18 years of age. Stop & Shop said it hopes it creates opportunities for people whose jobs have been affected by the coronavirus. _____________________________________________________________________________________

State police announced that there are four positive cases of COVID-19 within the agency. The four cases consist of a trooper from Troop G in Bridgeport, Troop L in Litchfield, the training academy in Meriden, and a recruit from the 129th Training Troop which has been training remotely. All are doing well and are expected to make a full recovery.6:30 p.m.The second Department of Correction employee has tested positive for COVID-19.The custody staff employee was assigned to the Corrigan-Radgowski Correctional Center in Uncasville. The employee last entered the facility on March 21.No other staff members or offenders at the facility have tested positive.The employee's assigned post for the last five days worked was in areas of the building which required minimal interaction with the offender population.

_______________________________________________________________________________________

Ren

owned chef Floyd Cardoz has died from complications tied to the new coronavirus sweeping the globe. CNN and People Magazine confirmed his death with Hunger Inc. Hospitality, where Cardoz was culinary director. Hunger Inc. Hospitality said Cardoz tested positive for COVID-19 on March 18 and was being treated for it at Mountainside Medical Center in New Jersey. _______________________________________________________________

Connecticut State Police are now tackling coronavirus rumors that are emerging across the state.

Below is a list of rumors they have addressed:

1. False Rumor: The State Borders and Highways are closed.

Fact:  The State of Connecticut is not under lock-down; borders are open and will remain open. The public is strongly urged to Stay Safe and Stay Home unless they work in an essential field. State highways remain fully operational. Additionally Rest Areas on I-84 and I-91 remain open 24/7. Service Plazas on I-95, I-395, and the Merritt Parkway remain open 24/7 and will have fuel, bathrooms, convenience stores, and limited prepared takeout food.

2. False Rumor: There is a state curfew in place.

Fact: No state curfews are in place as a result of COVID-19. At this time, there are absolutely no plans for a state curfew. The public is strongly urged to Stay Safe, Stay Home unless they work in an essential field.

Governor Ned Lamont's 'Stay Home, Stay Safe' Executive Order went into effect on Monday, March 23 at 8 p.m. Only essential businesses in the state will remain open at this time.

State Police will also be addressing their rumor control efforts on the state's coronavirus Facebook and Twitter pages.

_________________________________________________________________

Top White House aide Eric Ueland announced the agreement in a Capitol hallway shortly after midnight, capping days of often intense haggling and mounting pressure. It still needs to be finalized in detailed legislative language. "Ladies and gentlemen, we are done. We have a deal," Ueland said. The unprecedented economic rescue package would give direct payments to most Americans, expand unemployment benefits and provide a $367 billion program for small businesses to keep making payroll while workers are forced to stay home. One of the last issues to close concerned $500 billion for guaranteed, subsidized loans to larger industries, including a fight over how generous to be with the airlines. Hospitals would get significant help as well.

________________________________________________________________________________________

Prince Charles, the heir to the British throne, has tested positive for the new coronavirus. The prince's Clarence House office says the 71-year-old is showing mild symptoms of COVID-19 and is self-isolating at a royal estate in Scotland. It says his wife Camilla has tested negative. The palace says Charles "has been displaying mild symptoms but otherwise remains in good health and has been working from home throughout the last few days as usual."

_________________________________________________________________________________________________________________

Coronavirus is impacting the entire country, including Connecticut. Below is a breakdown of developments as they happen:

The number of confirmed cases stood at 223 as of Saturday evening, according to state leaders.

A breakdown of the state's cases can be seen here.

March 22

Governor Lamont announced he will be sending out a message warning residents to "Stay Home, Stay Safe."

4:55 p.m.

Officials in New Haven confirmed two new cases in the city, bringing the total number to 12.

A homeless man that tested positive had escaped care at the hospital and is now in police custody.

A child has also tested positive for COVID-19.

3:50 p.m.

Town officials announced two new cases of coronavirus in Stratford. A male in his 40s and a female in her 80s have tested positive.

Officials say the child that previously tested positive has recovered.

2:55 p.m.

Officials with Day Kimball Hospital confirmed that an obsetrics and gynecology physician tested positive for the coronavirus on March 19. The Day Kimball Hospital is working to contain the case and safeguard the well being of its patients, volunteers, visitors, and staff.

2:50 p.m.

Fairfield University announced online classes will continue for the rest of the spring semester.

The school's residence life team will contact students on Monday with instructions on when students can pick up their belongings.

The 2020 Commencement will not be held in May as scheduled, but the school is making arrangements for them to be held at a later date.

2:45 p.m.

Officials confirmed there are 5 patients at the Evergreen Health Center in Stafford Springs that tested positive for COVID-19. Four patients are in the center and one is in the hospital.

1:25 p.m.

The Newtown Health District announced the town's first case of COVID-19. Officials say that the patient, a woman between the ages of 25 and 49, is currently isolated and recovering at home. The district is also working on notifying all those that have recently come in contact with her.

8:05 a.m.

New Britain Mayor Erin Stewart announced on Twitter the city's first confirmed case of coronavirus. Mayor Stewart says that they were treated at UConn Medical Center and were later released. They are now quarantined in their home for 14 days and are working with the city's public health department. Mayor Stewart adds that the party is resting and doing well.

March 21

8:40 p.m.

Governor Ned Lamont is asking residents to consider signing up for the CTAlert system for phone and text message update about emergency alerts in the state. Find out more information here.

________________________________________________________________

Lamont says all 'non-essential' employees are to stay at home. A new Executive Order will set forth a set of critical industries that can remain open, such as healthcare, food, financial industries, public transportation and childcare services. Others will have to close by 8 p.m. Sunday.

_________________________________________________________________

Gov. Ned Lamont confirms 97 cases of COVID-19 in the state: 69 in Fairfield County; 11 in Hartford County; 5 in Litchfield County; 8 in New Haven County; 1 in Middlesex County; 1 in Tolland County

Nursing home resident at Evergreen Health Facility in Stafford Springs tests positive for COVID-19

Health officials confirm 24 people are hospitalized with COVID-19 in the state right now.

700 COVID-19 tests have been conducted in the state.

4 p.m.

Gov. Lamont announces first death of a person in Connecticut due to severe complications from COVID-19.

The patient, a man in his 80s, had recently been admitted to Danbury Hospital, where he was receiving treatment. He had been a resident of an assisted living facility in Ridgefield

________________________________________________________________

Mohegan Sun announced on Monday that it is temporarily closing parts of the casino as a precaution. Casino officials said they are in discussions with the governor's office about a period of closure to the public.

For the time being, the following areas will be closed:

Race Book

Wolf Den

Earth Tower hotel

All slot machines in the Earth section of the casino

Poker Room

The majority of table games in the Earth section

Summer Valet

Autumn and Summer Essentials convenience stores

Seasons Buffet & Earth Food Court

novelle

Kids Quest / Cyber Quest

Bow & Arrow Sports Bar and all floor bars in Casino of the Earth

Winter Player's Club Booth

Bobby's Burger Palace

Casino officials said the Sky section, "gaming and other amenities will continue until the temporary public closure, every other slot machine will be temporarily deactivated as an additional social distancing measure. The spacing and spreading out of seating for this purpose will be in effect as well for the remaining table games in this section of the casino."

During the temporary closure, officials will focus on cleaning and deferred maintenance.

Governor Ned Lamont of Connecticut, Governor Andrew M. Cuomo of New York, and Governor Phil Murphy of New Jersey today announced a regional approach to combating the novel coronavirus – or COVID-19 – throughout the tri-state area.

These uniform standards will limit crowd capacity for social and recreational gatherings to 50 people effective 8PM tonight. This follows updated guidance that the U.S. Centers for Disease Control and Prevention issued yesterday recommending the cancellation or postponement of in-person events consisting of 50 people or more.

The three governors also announced that restaurants and bars that serve food will temporarily be required to move to take-out and delivery services only. Bars that do not serve food will be required to temporarily close. These measures will take effect at 8PM tonight.

Finally, the three governors said they will temporarily close movie theaters, gyms and fitness centers, and similar public workout facilities and studios. New York and New Jersey will close commercial casinos effective at 8PM tonight. Governor Lamont will do the same for the state's physical off-track betting facilities, noting their willingness to voluntarily close. In addition, Governor Lamont and Governor Cuomo are strongly urging their tribal partners to close tribal casinos.

This uniform approach to social distancing is meant to slow the spread of the novel coronavirus or COVID-19.

President Donald Trump told lawmakers he wants a payroll tax cut that would last at least through the election to give consumer spending a jolt as the coronavirus threatens to cripple economic growth. The president told Republicans at a closed-door lunch Tuesday that he wants the payroll tax rate to drop to zero through the end of the year, according to a White House and a Senate official.

The number of confirmed coronavirus cases in Connecticut is on the rise. State officials confirmed 21 residents have now tested positive for COVID-19 in Connecticut. Health officials said a patient tested positive at UConn Health on Saturday but was discharged from the hospital. The patient and his family were directed to quarantine. UConn Health followed all precautions recommended by the CDC to protect our staff, visitors, patients and learners. Upon arrival the patient was identified and managed as a possible COVID-19 patient and as such all appropriate precautions were taken. Fortunately the patient is doing well and all notifications have been provided to the local and state public health authorities. Governor Ned Lamont said there are now 15 confirmed cases in Fairfield County, 3 cases in Litchfield County, 1 in New Haven County, and 1 in Hartford County.

A city man in his 40s is Norwalk's first confirmed case of coronavirus. Mayor Harry Rilling said the man contacted city health officials about his diagnosis. During a press conference Saturday at City Hall, Norwalk Director of Health Deanna D'Amore encouraged residents and business owners to limit social gatherings.

Yale says that a member of their community has tested positive for coronavirus on a preliminary test. Yale-New Haven Health officials say that its Chief Nursing Executive has tested positive. She is now self-isolating at home. Another Yale-New Haven Chief Clinical Officer has tested negative but is self-quarantining at home as a result of his wife's tested positive. All three patients are under the care of physicians at Yale-New Haven Health.

First responders were called to an inbound plane at Bradley International Airport on Saturday morning where a passenger was experiencing mild flu-like symptoms. Just before noon, the airport's AARF department responded to a Spirit Airlines flight that had just landed at Bradley. The passenger was evaluated, but it was determined the passenger did not require further medical attention. The passenger was taken to a nearby hospital.  No other operations at the airport were impacted.

The Mass Gaming Commission has voted to temporarily close all casinos in the state of Massachusetts. The decision was made during an emergency meeting Saturday morning. MGM Springfield, Encore Boston, and Plainridge Park Casino will also cease operations immediately and officials will reevaluate the situation in two weeks. This story is developing and we will provide you with the latest update as soon as more information becomes available.

The Department of Social Services is making changes to Medicaid and Husky Health Program to offer more services, specifically focusing on telemedicine services, including real-time video conferencing with health care providers for medical and behavioral health services. This will affect some 850,000 people enrolled. State leaders said they are working with federal partners and hope to announce more benefits going forward.

The state is making changes to the Small Business Express Program, deferring loan payments for three months. Officials said that means an estimated $5 million in loans will be deferred and no interest will accrue during that time. The state said they are also working on a broader package to help both businesses and individuals through the uncertainty and disruption.

Starting Monday, more than half of Connecticut students won't be in school. Thousands of those students rely on the Federal School Lunch and Breakfast Program for two meals a day. The State Department of Education is working with school districts and community organizations that worked on the summer meal program last year to continue the distribution of those meals.

According to the South Windsor town manager, officials are monitoring a presumptive case of COVID-19 in town.  In a letter to residents Friday evening, Town Manager Michael Maniscalco confirmed the presumptive case, which he said means the individual is showing symptoms of COVID-19 and is in quarantine, but has not yet been tested.  Another person is in self-quarantine but is not showing any symptoms.

Chief Operating Officer Josh Geballe  observed the first positive result of COVID-19 pandemic last Friday. State Epidemiologist Matthew Cartter announces the number of positive patients has increased to 11, including a Greenwich resident who was tested in Utah

State Epidemiologist Matthew Cartter says Greenwich Hospital, Bristol Hospital and Waterbury Hospital have set up isolated COVID-19 testing locations separate from main hospitals.

Department of Labor suspending work search requirements for unemployment benefits and another mandate that requires certain recipients appear in-person at American Jobs Center, COO Josh Geballe  said.

They are developing more ways to tele-med with Medicare and Husky patients…over 850,000 people effected.