MONDAY to FRIDAY -- 03:00 PM - 07:00 PM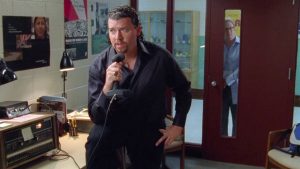 Afternoons with That Guy Dave!!
Dave was born and bred in the depths of the Radio 104.1 studios. He began his radio career as an intern for the radio angel, Amy Grey. That is where he joined Amy and Holden, where he learned if he was annoying enough that Holden eventually would put him on the air. Stump the Millennial was born and so was Dave's career. He used his 5 minutes of glory each morning as a launching pad for his journey to stardom. Dave became a rocket ship of success and annoyance until once again the powers that be put him on the air. He rode that rocket ship all the way to where you can hear him now every afternoon starting at 3pm. You can hear Dave every afternoon and will see him at mostly every Radio 104.1 event that happens. He enjoys food (literally all of it), beer (preferably an IPA of 7% or higher), and occasionally pretends to read even though he's pretty sure he's just memorized a lot of words… he is That Guy, DAVE!
***if you want crappy other info***
Favorite TV show: Eastbound & Down
Favorite Movies: Old action movies like Commando, Demolition Man, Roadhouse, and anything Batman
Favorite Day of the Week: MILK Day
Favorite Book: I'm not convinced I actually know how to read, I just know a lot of words
Life quote: "My coach told me to lift weights, I said nah those things are heavy" –Ken