The Radio 104.1 Alternative Diner is here! Check out some recipes try at home and share in our deliciousness! 
Balsamic Glazed Salmon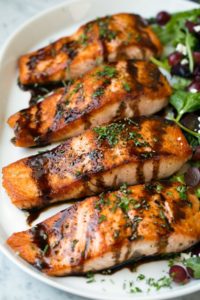 Glaze
1/2

 

cup

 

balsamic vinegar

1/4

 

cup

 

white wine or low-sodium chicken broth

2

 

Tbsp

 

honey

1

 

Tbsp

 

dijon mustard

1

 

rosemary sprig (about 7-inches)

1

 

cloves

 

garlic

 

minced
Salmon
4

 

(6 oz) salmon fillets

 

skinless or skin on

Salt and freshly ground black pepper

2

 

tsp

 

olive oil

Finely minced rosemary or parsley, for garnish

 

(optional)
Instructions
Allow salmon to rest 10 – 15 minutes at room temperature. Meanwhile, in a medium saucepan combine balsamic vinegar, white wine, honey, dijon mustard, rosemary and the garlic.

Heat mixture over medium-high heat and bring to a boil, then reduce heat and simmer over medium-low heat until sauce has thickened and reduced to about 1/3 cup, about 10 – 15 minutes, stirring occasionally.

Remove from heat and pour through a fine strainer into a heat proof dish. Set aside.

Season both sides of salmon with salt and pepper. Heat oil in a 12-inch non-stick skillet over medium-high heat.

Add salmon fillets and cook, without moving until salmon has nicely browned on bottom, about 3 – 4 minutes. Carefully flip salmon to opposite side and continue to cook 2 – 3 minutes longer until salmon has cooked through.

Serve warm drizzling each fillet with balsamic rosemary glaze. Garnish with finely minced rosemary or parsley if desired
How To Make Bourbon Chicken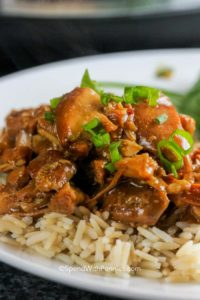 To make this Crock Pot bourbon chicken it's simple:
Ingredients
3 lbs boneless skinless chicken thighs
3 tablespoons cornstarch
1/4 cup sliced green onions (or more to taste)
Sauce
1/2

 

teaspoon

 

fresh grated ginger

4

 

cloves

 

garlic

 

, minced

1/2

 

teaspoon

 

crushed red chili flakes

1/3

 

cup

 

apple juice

1 1/2

 

tablespoons

 

honey

1/4

 

cup

 

brown sugar

1/4

 

cup

 

ketchup

3

 

tablespoons

 

cider vinegar

1/4

 

cup

 

water

1/4

 

cup

 

Bourbon

1/4

 

cup

 

soy sauce

salt & pepper to taste
Combine sauce ingredients together and pour over chicken thighs.
Turn the Slow Cooker to HIGH for 3 hours or LOW for 6-7 hours.
Shred the chicken and create a cornstarch slurry to thicken the sauce.
A few notes about this recipe…  this dish is sweet as Bourbon chicken is a sweet dish (similar to sweet and sour).  Do not use light soy sauce, the results and flavor are not the same.  Chicken thighs are best in this recipe as they won't dry out like slow cooked chicken breasts sometimes do! ENJOY!!!
How To Make A Cardamom & Grapefruit Gin Fizz
Once you've got the infusions made, this grapefruit gin cocktail is super simple to make! Pro tip: If you're only making one or two of these, you might want to buy a smaller amount of prosecco for making this cocktail—it's pretty easy to find small half-bottles these days, or even small cans of prosecco, like this or this. Here's how to mix up this yummy gin fizz recipe:
Place lots of ice in a cocktail shaker—or you can use a large mason jar with a tight lid if you don't have a shaker.
Pour in the rosemary syrup, gin and grapefruit juice. Shake hard for about 30 seconds. A traditional gin fizz is super frothy, so lots of shaking give it that frothed up look. It'll also ensure that the ingredients are well-mixed.
Strain the cocktail into a glass filled with fresh ice.
Top with a splash of prosecco, and serve!
Easy Spiked Hot Chocolate
A little bit of prep and you'll be ready to make our alcoholic hot chocolate recipe all winter long. Here's how to make boozy hot chocolate:
Make a big batch of our Homemade Irish Cream and keep on-hand for this spiked hot chocolate recipe. Bottle extras for cute DIY gifts for friends. OR just buy some Irish cream—that's OK too.
Heat things up. Warm together a mix of milk, sugar, salt, and vanilla. Stir in chopped chocolate until smooth.
Make it boozy! Stir in bourbon, Frangelico, and premade Irish cream.
Top with marshmallows or a swirl of whipped cream.