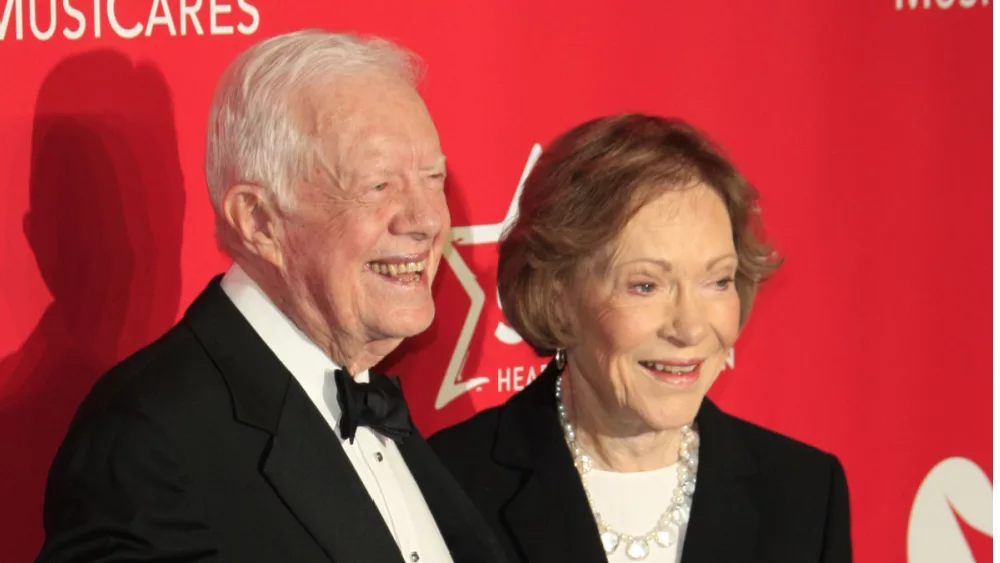 The Carter Center announced Sunday that former first lady Rosalynn Carter has died at the age of 96
The Carter Center shared in a statement that Mrs. Carter died "peacefully, with family by her side" at 2:10 p.m. ET on Sunday, Nov. 19, at her home in Plains, Georgia. Former President Jimmy Carter said in a statement: "Rosalynn was my equal partner in everything I ever accomplished. She gave me wise guidance and encouragement when I needed it. As long as Rosalynn was in the world, I always knew somebody loved and supported me."
The Carter family said last May that the former first lady had been diagnosed with dementia and continued to live at home in Plains, Georgia, with her husband; however just last week, they announced Mrs. Carter had entered home hospice care. President Carter has been in hospice care at home since February.
Son Chip Carter said in a statement: "Besides being a loving mother and extraordinary First Lady, my mother was a great humanitarian in her own right. Her life of service and compassion was an example for all Americans. She will be sorely missed not only by our family but by the many people who have better mental health care and access to resources for caregiving today."
Born in Plains on August 18, 1927, the oldest of four children, Rosalynn Smith started dating Jimmy Carter when she was 18; the couple married a year later in 1946. When Jimmy Carter's father died in 1953, they returned to Plains to run the family peanut business; years later, Mr. Carter was elected governor of Georgia in 1970; and later elected President from 1977-1981.
Rosalynn Carter played an active role in the White House as a close confidante and trusted adviser to her husband, and championed causes such as research into mental health. She used the power of the first lady's office to promote better understanding of the mentally ill, one of her long-term causes. She served as the honorary chairperson of the President's Commission on Mental Health. After leaving Washington in 1980, the Carters built the Carter Center in Atlanta, which promotes peace and conflict resolution. Projects via the Carter Center include breaking ground on new homes for the poor through Habitat for Humanity in the U.S. President Clinton awarded the Carters the Medal of Freedom in 1999.
Along with President Carter, Rosalynn Carter is survived by her children — Jack, Chip, Jeff and Amy; 11 grandchildren and 14 great-grandchildren, the Carter Center said.
Editorial credit: Kathy Hutchins / Shutterstock.com